TRACKLIST
DREADNOUGHT
...AND LUNA
FOUNDLING
HORIZON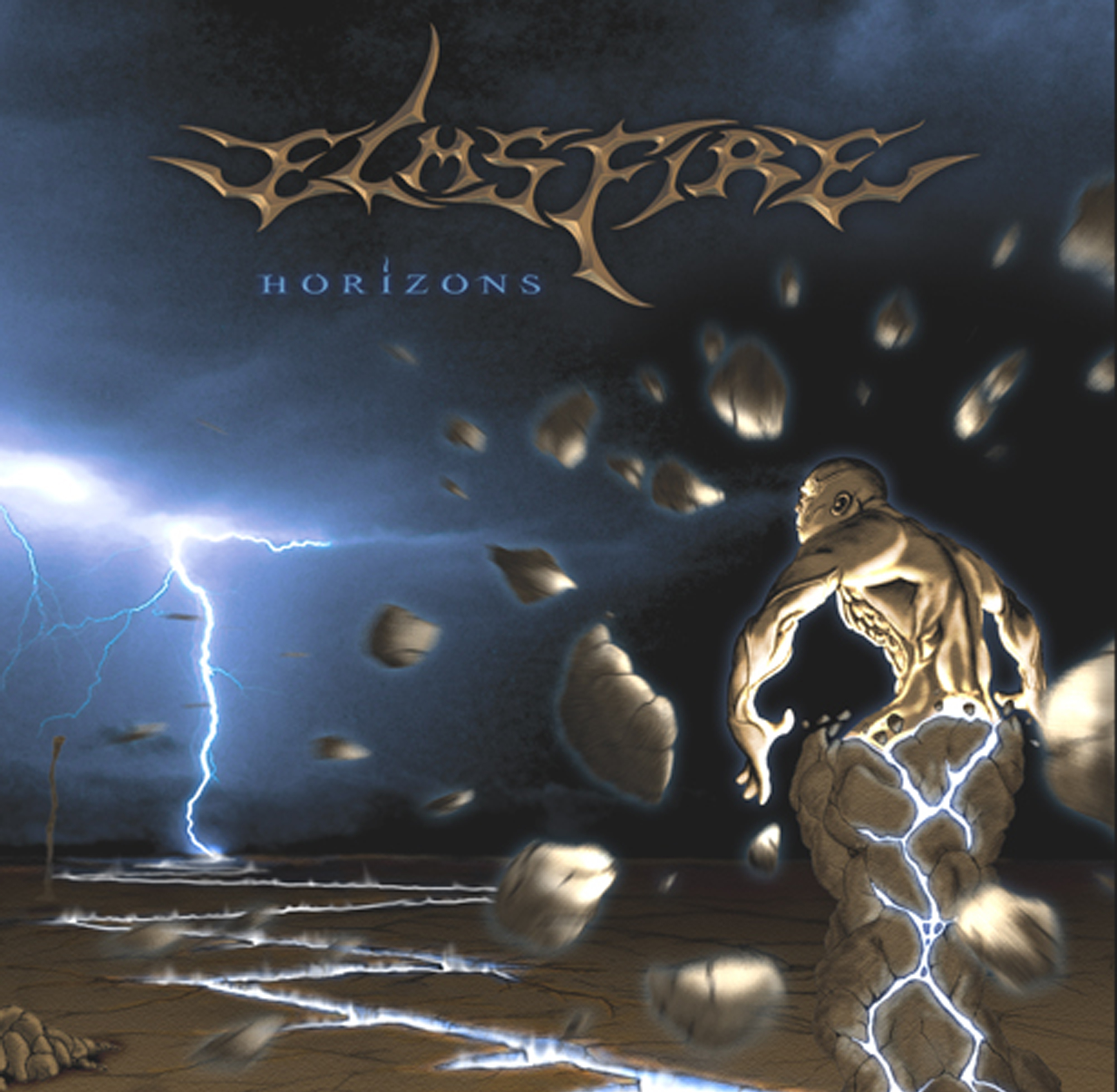 REVIEW
...Wer die alte "Maiden / Priest - Schule" liebt und auf Bands wie WOLF oder METAL INQUISITOR abfährt, sollte sich die vier wirklich gelungenen Songs (allen voran den überlangen Titelsong und den Hammer "… And Luna"!) anhören und ELMSFIRE eine Chance geben...Eine wirklich gelungene Investition für Traditionalisten der alten Schule!
At daylight cloud at night storm´s eyes
"Here´s Asrael to dragonflight"
Settin´out for final strike
A triangle shadow glidin´through the night
And dropping fire as breathless sigh
A phoenix dies, burnin' so slowly
Cuts through you, unhold, unholy
Here comes rollin' my war machine
No rain on Arrakis it only pours
This dreadnought of powers I can't endure
Like a mental disease which yet knows no cure
I'm the fly that's drawn from light to obscure
Crashed am I in these wheels of might
And no one here gets out alive
From dust you're made burn back to it
Trick your conscience fall to sin
Just leavin' wasted fields within
Here comes rollin' my pleague machine
I met Anubis while I was in search for peace of mind
I got no piece inside
Weighed heart against a feather but it sank to none of sides
It's futile to try
The sixth of seals is broken now and that's the story told
I saw the angel passing outstretched hand and pointed sword
See darkness rise as the nova unfolds
Dreadnought
No rain on Arrakis everything´s changed
This dunes and deserts are no more the same
To make a decision t´was never too late
Fate´s not mine to believe in
so guess mine´s already made
(There's none harder to battler than yourself one on one
Today we'll find out what kind of warrior you've become)
Next to a grave a year and a day
You´ve got to wait the legend said
The time it takes to find the way
And then what´s dead comes back

A shade rose to stalk the night
A torn way heart of pain and pride
Haunting down the guilty souls
And recreate new wrong to right

I shall find you everywhere
With my task done your meets an end
With morning far and down so near
Shall show us both to oblivion

Do you believe in destiny
That I, within a nightmare´s hand
And from a vale of blood and tears
Reset the game rewrite the end?


Charon, Charon don´t guide me wrong
Send me your bird to lead me on
Set me on fire and I will come
The whole way back down to my town

Charon, Charon one silver coin
Will pay your turn to float me home
And steer your boat the way I´ve come
The whole path back where I belong

Lightning strikes and Luna cries
The mirror breaks to shattered piles
The Jester smiles and Luna shines
"No spirit ever counts the miles"
"I dreamed of this
Of the world waiting
Just like a summer sky
Before it starts raining
This time when I'll breathe
And all chains are breakin'..."

I'm of the refused few
Another mind abused
Out here the daylights cruel
Each breath I take is burning fuel

While glowing from inside
Roaming where neon eats the light
As from the world outshined
Insomnic, hun-greedy, crucified

I'm standing as a catalan rock
In a citys sea
With desperation and dissatisfaction
Diggin' at my feet
I wont give in to thee
I cant give in to thee

Theres only one lifetime
This sands of time are mine
In count I do not add
Won't minus nor substract
Won't fit a type that I cant stand
Won't make my life a neverland
And I dont need define
Holding my lifeline
The flickerlight that I've begun
As dreams to turn into the sun

Clawed back to the ground
Chained again by gravitys bounds
Hooded but no hide
Crawlin' in a faceless crowd

Standing on the shadow side
Out in the meadow of benight
And cry the vague outsides
To recognize me, realize

Sole chamber inhabitant
Hold out against the stream
Let laterns eat the night outside
Until you're someday breakin' in
Stand alone in thought you dwell
A ghost cought in a shell
Ignite again exhausted soul
Fear not untide nor hell

At night I drift on the edge of my sleep
Got clouds and rags my hights and my deep
Despair....

I pray "Let man not mountains be
Nor scattered isles that never meet
May hope not be a fragile dream
Of lonely souls which share no feel"

Sank to where all care leaves
Till' cold crept up my limbs
Woke up to see again
A light on far horizon swim

But pulsin' vague and thin
A tiny flame just weak and dim
Almost warmth on skin
Another fellow of my kin

Born and grown a towered thorn
On this floodland floor
A light blinks up like mockery
Overseein' desert pelennor
Fled a distant lighthouse soul
Tells me I'm not alone
To wave a far way shore
In the calm before the storm
Listen
Whatever seems set
Whatever they told you
See it trough you´ll find no truth
Misery´s like a Curse
And yet it´s a cure
What the world´s like when it´s pure
Beware what you find out
Might scare you may wipe out
Take care what you wish for
It might become true, you know
Fall
The Faded ends of this lands within the reach of your hands
This is not the end my friends
It is the horizon of events
Break the shell, release yourself
Upon shores of new experience
Death means beginning, there´s really no difference
In 1st scream or last breath,
Just a brief interference
In the flow of this existence
Caught my eyes cheatin´…that´s why I let bleed ´em
Got my phantasy see me… all I seek, all I need to peek past that "real thing"
I hold the keys in this my fist, I crawled to Hades on my knees
And I brought back the spark to us from this darkness
I solved the riddle and I passed

The unseen in between
Revealing what is within
"There they stood, ranged along the hillside
Met to view the last of me
A living frame for one last picture in a sheet of flame
I saw them and I knew them all
And yet dauntless the slughorn to my lips
I set and blew
(I said I roared that nothing´s in vain)
Child Roland to the Dark Tower came"
"It´s not the spoon that bends but you"
What eyes can show´s not always true
Maybe you´ll die, might just get braised
But only few dare to let loose

This is not the end, my friends
There´s nothin´ such as mind invents
It´s horror-rising´
you´ll unde
rstandWhen all ideas run out of hands
This is not the end, my friends
It is the horizon of events
Break the shell, release yourself
Set free from a mortal prison cell